For the love of Pumpkins
The Louisville Jack-O-Lantern Spectacular 2018
Fall is my favorite time of the year. I enjoy all the fall activities and food. My favorite fall food is anything pumpkin. Pumpkin doughnuts, pumpkin pie, pumpkin latte, pumpkin ice cream,.... anything pumpkin. Since I love pumpkins, my fall activities include a visit to a local pumpkin farm to pick out pumpkins to carve and attending the Circleville Pumpkin Show. I have a small yard in which to plant a garden and I am unable to plant pumpkins. Therefore to fulfill my pumpkin addiction I purchase and stockpile pumpkin foods and attend pumpkin festivals. I am always looking for new places to visit and events to attend. In September I visited my father in Kentucky and I stayed at the Cumberland Falls Lodge when I saw a Jack-O-Lantern Spectacular brochure. Of course, this event was something I had to see.
History of the Event
The Jack-O-Lantern Spectacular began in Oxford, Massachusetts in 1988. Within a few years the Oxford event attracted a yearly attendance of 10,000 visitors. As the Oxford Jack-O-Lantern Spectacular grew in popularity other cities were interested in hosting a similar event. Louisville, Kentucky city representatives contacted Passion for Pumpkins founder, Travis Reckner, to organize a Jack-O-Lantern Spectacular event.
The Louisville Jack-O-Lantern Spectacular is held at Iroquois Park and is celebrating it's 6th year in 2018. Travis Reckner, founder, and Paul Cadieux, co-owner, start the planning process six months before the event. The first step is designing the themes and jack-o-lantern designs. Then training local artists, building the props, selecting music for each theme and installing 50,000 feet or more of electrical wire. The proceeds benefit The Louisville Parks Foundation.
The Jack-O-Lantern Spectacular 2018 theme is "A Night at the Library."
The Jack-O-Lantern Spectacular is a unique visual experience. You can expect to be amazed and delighted as you wander the 1/3 mile trail and view 5000 carved glowing jack-o-lanterns and twinkling lights strung among the trees. Upon entering the gate the visitor will encounter various themes along the trail. In each area the jack-o-lanterns, props, and music match the theme. Jack-O-Lanterns, laser lights, and strobe lights are strung throughout the trees and woods giving it an enchanted and magical feeling. This is a family friendly event.
For ticket, hours, and updated event information go to The Louisville Jack-O-Lantern Spectacular website:
Pyramid Hill Sculpture Park
By: Melinda Lee
Pyramid Hill is a unique outdoor museum created by Harry T. Wilks. In 1987 Mr. Wilks purchased 40 acres outside of Hamilton, Ohio and he began designing his home. The structure he proposed was an underground home with a giant glass pyramid to allow light in the 2500 square foot living room. On the East and West side of the glass pyramid is a hallway with skylights and additional living space. The construction began in 1990 and was completed in 1992. After the home was completed Mr. Wilks wanted to preserve the property for future generations, so he formed a non-profit organization and donated the land to it. He then began purchasing sculptures to place in the newly formed park. In 1996 Pyramid Hill had its grand opening.
Over sixty sculptures are nestled among 300 acres of woodlands, meadows, lakes and gardens and there are three ways that visitors can view the art in the park. The first way visitors can view the art is to drive their vehicle on the paved Gallery Loop Road. There are parking areas along the road so that visitors can park their vehicle to get a closer view of the art and take pictures. The second way visitors can view the art is by walking the 3 miles of trails in the park. And the third way visitors can view the art is by art cart. Visitors can rent an art cart from the visitor's center and travel on the paved pathways or go off the pathways to get a closer view of the sculptures.
While visiting the park stop by the Ancient Sculpture Museum to view artwork of Egyptian, Grecian, Roman and Etruscan traditions and visit the Founder's Library. The Founder's Library contains a visual history of the park. The Library walls are lined with items such as newspaper and magazine articles and pictures of Mr. Wilke's home during construction and completed. After touring the museum, relax on the overlook patio.
In addition to the sculpture park and the Ancient Sculpture Museum, Pyramid Hill provides summer programs for children and special events throughout the year. A few of these events include: the Fishing Derby; Zombie Ball; Art Fair; Holiday Lights; and Blues, Brews and BBQ.
To learn more about Pyramid Hill go to their website at:
The Cincinnati Nature Center – The Edible Plants and Foraging Group
By: Melinda Lee
Last winter while researching Ohio gardens, I discovered the website for The Cincinnati Nature Center. It is located in Rowe Woods at 4949 Tealtown Road, Milford, Ohio. The property consists of 1,600 acres of forests, fields, streams, and ponds with 16 miles of hiking trails for visitors to enjoy. While hiking, visitors may explore a few of the special site features. These sites include: Oak Allee, Krippendorf Lodge, Abner Hollow Pioneer Cabin, the Herb Wall, the Celebration Garden, and Grosbeck Lodge and Garden.
Take a moment to watch the Cincinnati Nature Center video.
https://www.youtube.com/watch?v=fMPjn_KLRfA#action=share
As I perused the Cincinnati Nature Center website I was thrilled to find the group's section with the Edible Plants and Foraging Group. Of course, I joined. As a member of the Edible Plants and Foraging Group I receive an email schedule of group events and programs to attend. The Fall 2017 programs were remarkable. The season started off with a Cornelian Cherry presentation with samples of cornelian cherry jam. After the presentation the participants made Sharbat and a Persian rice dish using cornelian cherries. Pawpaw hunting and Pawpaw fermentation were the next two programs. Patrick Mulrey, a professional brewer, shared his expertise on how to make pawpaw beer, pawpaw wine and paw paw mead. The Pawpaw fermentation class ended with the attendees enjoying pawpaw beer and pawpaw crepes.
For Pawpaw recipes go to this Kansas State University link: http://www.pawpaw.kysu.edu/pawpaw/recipes.htm
The Edible Plants and Foraging group programs are popular and are well attended but the Taste of Nature programs sell out. The most recent Taste of Nature programs featured Spicebush and Persimmon. Jason Neumann, Program Manager, conducted a short presentation which was followed by the caterer, Elegant Fare, serving delicious creations from the featured plant.
The Spicebush menu included: Spicebush Chicken Yakitori with Yuzu; Spiced Butternut Squash Puffed Pinwheels with Parmesan; Pork Loin Brioche Cups with Spicebush Apple Compote; Vin Chaud "hot wine" with orange; and Spicebush Walnut Chocolate Macaroons.
The Persimmon menu included: Endive Cups with Marinated Feta, Roasted Beets and Persimmon Basil Jelly; Thai Rice Cracker with persimmon Sambal; Crostini Con Cachi Persimmon Puree with Brie and Candied Pistachios; Spicy Persimmon Pie in Mini Tart Shells with Persimmon Pulp, Condensed Milk, Egg, Ginger, and All Spice; and Persimmon Tea.
The fall program schedule concluded with these three programs: Black Walnuts, Inspirations from Europe; Wild Herbs for First Aid with Abby Artemisia; and Aquatic Edible Tubers.
To become a member of The Cincinnati Nature Center and register for programs go to their website at: http://www.cincynature.org/
Solar Eclipse 2017
It was a beautiful clear day for the solar eclipse in southern Kentucky. We left Columbus, Ohio at 6:00 am and arrived in Cave City, Kentucky about 1:15 pm. We found a spot to park at a Cracker Barrel off the freeway. We had just enough time to set up the camera equipment and take pictures before totality. I took pictures of eclipse viewers enjoying the event and I talked with them about their journey to the path of totality. Many viewers traveled days to be a part of this special event. Was it worth it? Many viewers said "Yes."
Pond Extravaganza
I had the pleasure of attending the Miami Valley Water Garden Society Pond Tour the last weekend of July. If the installation of a pond is under consideration, add this tour to your schedule. You will have the opportunity to talk with the owners of these beautiful ponds and ask fish keeping and pond maintenance questions. They are passionate about the hobby and are very helpful in explaining their experiences.
The Miami Valley Water Garden Society pond tour covers the Dayton, Springfield, Middletown, Yellow Springs, Hamilton, and other nearby communities. Visitors can purchase their tickets and map at Green Vista Water Gardens http://www.greenvista.com/ or contact the Miami Valley Garden Society website ( http://www.mvwgs.org/index.html ). The tour is a two day event that begins on a Saturday and concludes on Sunday. The daily hours are 11am to 5pm. Visitors can visit ten ponds listed on the tour. The 2017 tickets cost $10 each and the proceeds go to promote water gardening and educational and social activities related to the hobby. The Miami Valley Water Garden Society is a non-profit organization.
Here are a few highlights from my Sunday pond tour visit.
Pond #1 - The Kinney pond is in Yellow Springs, Ohio and features a parklike setting with two water features. Upon entering the garden the visitor is greeted by the sweet aroma of flowers. The visitor then walks along a path to the deck of the Japanese Koi pond. After viewing the colorful Koi the visitor can wander the gardens to the rear of the property where there is a waterfall and stream like water feature. This garden is a perfect place to sit, relax and listen to the water running over the rocks.
Pond #2 – The Grimes pond in Springfield, Ohio has two ponds to enjoy. In the front yard there is a small pond with a waterfall surrounded by beautiful flowers. The large pond and waterfall with Koi is in the backyard. The dragon artwork is a fun addition to the garden.
Pond #3 – The Stewart pond in Springfield, Ohio is an example of water gardening in a small area. This garden packs a punch with attracting wildlife, colorful Black Eyed Susans, and artwork. My favorite feature of the Stewart garden is the three turtles they added to their pond. I also enjoyed the pictures of the raccoon visitors that stop by their garden in the evenings.
Pond #4 – The Swabb pond in Greenville, Ohio is truly a labor of love. The homeowner spoke of his garden struggles and the garden transformation. He is dedicated to perfection and detail and this garden is full of surprises. What a delight to walk through this garden and discover all the hidden treasures.
Pond #5 – The Litke pond in Greenville, Ohio features a gazebo, colorful landscape, and pond with a variety of water plants. A walking path encircles the pond. Along one side of the walking path there are Black Eyed Susans and a variety of grasses, shrubs and flowers. This pond's special feature is the content of different types of water plants. There are pink and yellow water lilies, Imperial Tara, Water lettuce, water hyacinth and many more plants. It is a wonderful display of water plants.
Mark your calendars for the 2018 Miami Valley Water Garden Society Pond Tour. You don't want to miss this tour.
Support Ohio Farmers
My visit to The Cherokee Valley Bison Ranch in Thornville, Ohio.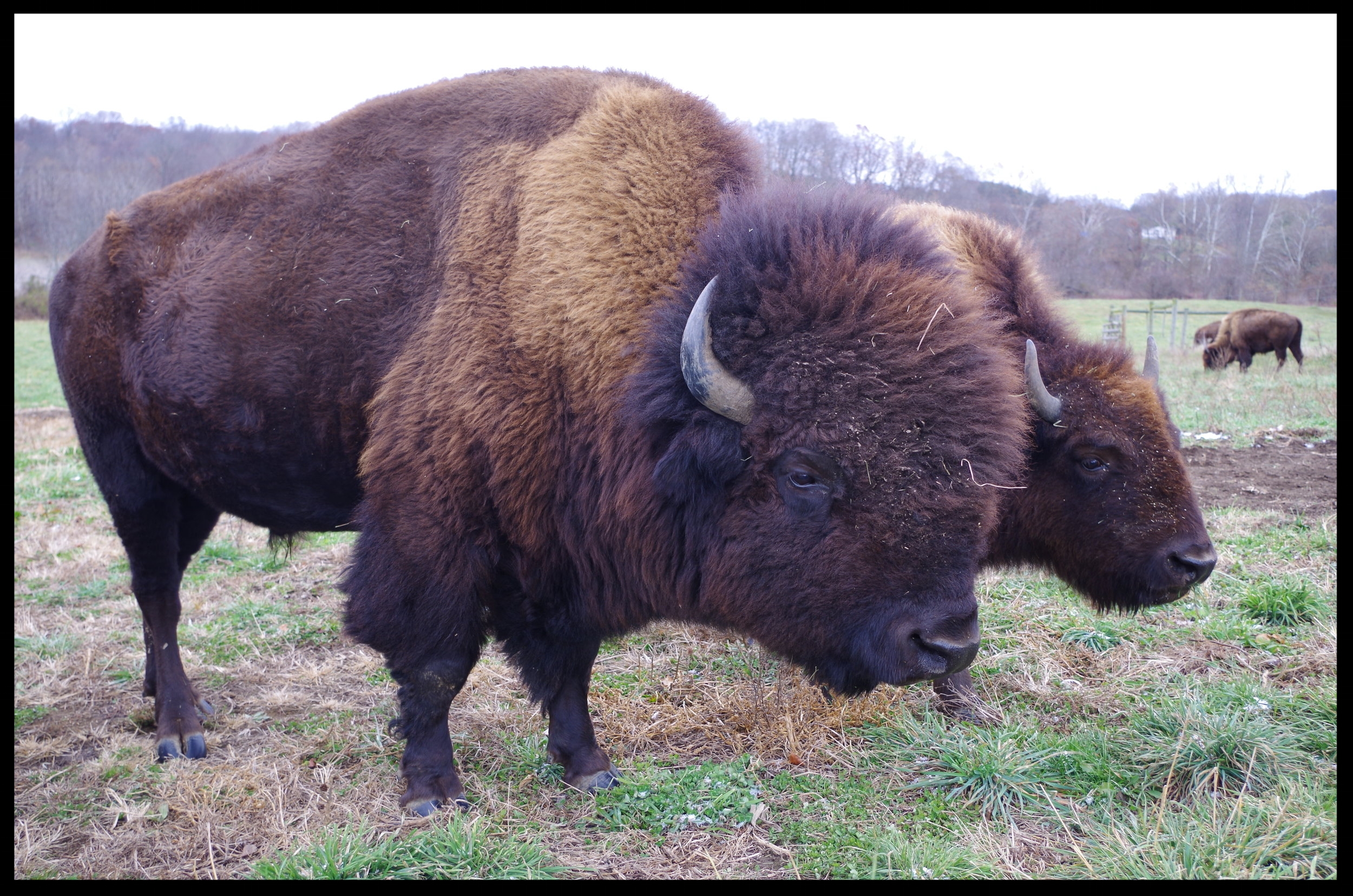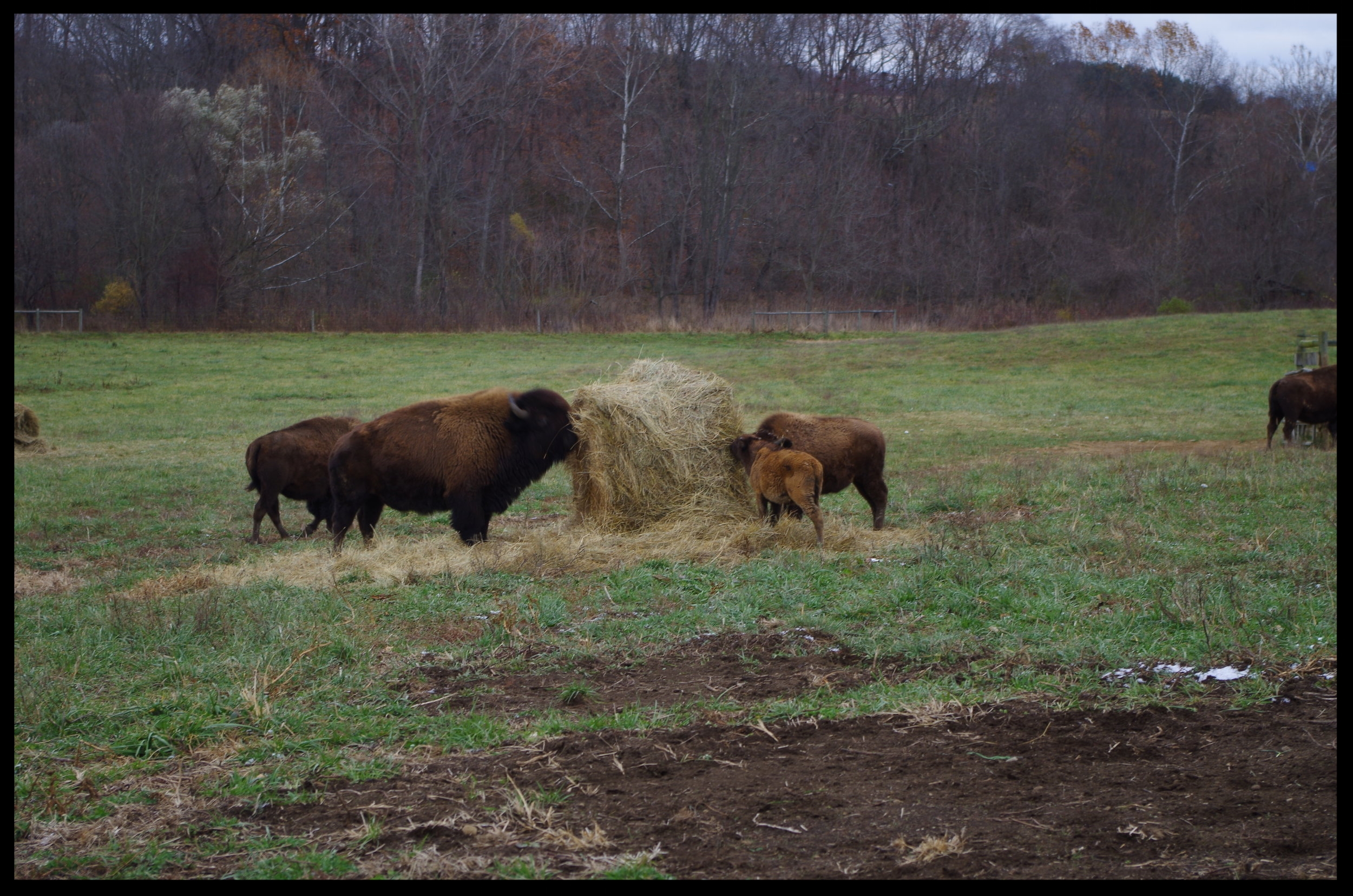 Products
Bison meat, Narragansett heritage breed turkeys, Tamworth pork packages, pastured chickens, eggs, heirloom vegetables, CSA
Description
The farm is located in the rolling hills of Perry Co. The farm has been in the family for over 50 years, and in that time no pesticides have been used. They carry on that tradition by managing their crops and animals the same way. The bison are pastured, eating their intended diet of grass all summer and hay in the winter; they are never confined in a feed lot. They do not use growth hormones or antibiotics in their production. The Tamworth hogs, Narragansett turkeys and Pastured broiler chickens are raised on pasture and supplemented with a non-GMO feed ration. They grow all heirloom varieties using organic methods and will also have produce available at their farm stand during the growing season. They would love to see you. Call for more information or to schedule a visit!
Contact:
Jarrod and Carie Starr (740) 403-3763
American Excursions
Biltmore Estate and Gardens
Note: The Biltmore facts used in this article were taken from the Biltmore website and tour brochure.
For years I wanted to visit Biltmore Estate and I had the opportunity to go in August 2016. The eight hour drive is worth the visit to the impressive home and stunning estate gardens. The view of the Blue Ridge Mountains from the Biltmore terraces is breathtaking. the estate gardens are a gardeners dream. In the following paragraphs I will provide facts on the Biltmore home to depict the massiveness of the home and estate grounds.
On George Vanderbilt's first visit to Asheville, North Carolina in 1888 he determined that the Blue Ridge Mountains was the perfect location for his country home. In 1889 craftsman began construction on the 250 – room French Renaissance chateau. After six years of construction, in 1895 the home was officially opened on Christmas Eve. The finished home contains over four acres of floor space- 135,280 square feet, 35 bedrooms, 43 bathrooms, 65 fireplaces, an indoor pool, bowling alley, a library with 10,000 volumes, and a Banquet Hall with a 70-foot ceiling. It is the largest residential architecture undertaking in America.
The Vanderbilt's appreciation for nature and art are visible upon entering the home. Just inside the Biltmore entrance is a glass roof winter garden filled with tropical plants and a fountain sculpture, Boy Stealing Geese, by Karl Bitter. The Vanderbilt's filled their home with artwork, sculptures, tapestries, and each room of the home contains tropical plants and flower arrangements. The plant store rooms are in the basement area. The rooms are lined with shelves with a variety of vases, pots, and planting supplies for creating flower arrangements.
The Biltmore home is on an 8,000 acre estate with formal and informal gardens designed by landscape architect, Frederick Law Olmstead. There are nine garden areas to explore with networks of paved paths or gravel trails connecting the gardens. The nine gardens are: the Library & South Terrace; Italian Garden; Shrub Garden; Spring Garden; Walled Garden; Rose Garden; Conservatory; Azalea Garden; and the Bass Pond and Boat House. Each garden is unique. The Library Terrace is shaded by an arbor of wisteria and trumpet creeper vines. The Italian Garden has three formal water gardens where koi and goldfish swim among giant water lilies, lotus, and papyrus. The Shrub Garden has 500 varieties of ornamental shrubs, trees, and other popular plants of the 1890's. The Walled Garden is a four-acre formal garden featuring flowerbeds and two arbors. The Rose Garden contains heirloom varieties. The glass roofed conservatory is home to exotic orchids, ferns, and palms. The 15 acre azalea garden is the estate's largest garden with an array of color. The Spring Garden and the Bass Pond / Boat House Trails are a joy to walk. The white pines and hemlocks provide shade while walking along the babbling brooks. Small wooden and stone bridges are throughout the trail to provide access across the brooks. And a large growth of bamboo was a nice area to take a break and take pictures.
The estate gardens were a true delight to stroll through, gaze at the creative landscape designs, view the numerous flower varieties, and watch the wildlife, birds and insects. If you are interested in visiting the estate there are activities and areas of the estate that I did not cover in this article. Go to the official Biltmore Estate website for more information. I enjoyed my visit and I recommend visiting the home and estate.
Written By:
Melinda Lee
Monet By Moonlight
Green Vista is Ohio's pond superstore with 20 display ponds and thousands of pond plants and pond fish on over 4 acres. They grow over 85 varieties of blooming water lilies and 175 varieties of tropical bog plants for ponds and water gardens. Every year Green Vista Water Gardens hosts a unique event for pond and water garden enthusiasts. This special event, "Monet by Moonlight," is an evening with poetry reading, music, and refreshments. Visitors can wander the designated event area to view ponds with waterfalls, lights, fish, pond sculptures, garden art, and blooming tropical water lilies. Green Vista Water Garden staff is knowledgeable and helpful. They are eager to assist visitors with their pond and water garden questions. This event is free with the pond and water garden supplies discounted during the event.
Since the event is in the evening and visitors only have access to the event area, I would suggest visiting before the store closes for event set up. Once the store closes for event setup you may visit a popular local restaurant "The Dock." After an enjoyable dinner return to Green Vista for the Monet by Moonlight event. If you don't have a pond or water garden, a visit to Green Vista Water Gardens will inspire you to incorporate a water feature into your gardening plans.
For store hours and directions, visit their website - http://www.greenvista.com/index.html. Browse their website for upcoming events such as the Fall Pond Care Seminars, Pond College, and Koi Auction. Take a video tour of the grounds and go to the pond tips and links sections for pond resources. For ordering convenience there is an online catalog and you can sign up for their newsletter and mailing list. Look for the web coupons and gift certificate section of their website. If you would like to visit Green Vista Water Gardens they are located at 4034 Dayton-Springfield Rd., Springfield, OH 45502.
Pollinators need our help.
What can you do? You can start with three easy steps.
1. Avoid or limit your perticide use.
2. Plant a Pollinator garden.
3. Provide Nesting Sites
Here are two great links for pollinator information. The first link is for an article by the Natural Resources Conservation Service on Native Pollinators.
http://www.plants.usda.gov/pollinators/Native_Pollinators.pdf
The second link is for The US Fish and Wildlife Service.
https://www.fws.gov/pollinators/
URBAN HOMESTEADING.
YES, YOU CAN DO IT!!
By Melinda Lee
My journey to becoming the Urban Homesteader that I am today began when I was a child. I remember my mother and grandmother working in their gardens and the delicious food we enjoyed from those gardens. They both loved their gardens and they instilled the love and appreciation for gardening in me.
After college I purchased a home in the city and I secured employment with the local public school district. As a school employee I had the summers off and in 2003 I decided to apply for a part-time Park Ranger position. I was offered a job at a park that also had an 1880's working farm on the property. I was overjoyed at the opportunity. During my time as a Park Ranger my love for the outdoors and living a simpler life grew. I wanted to learn more, so I subscribed to Mother Earth News, Backwoods Home, Country Woman, and Grit. I connected myself with like-minded individuals and began working toward self-sufficiency and sustainability. On my homesteading journey I learned easy and inexpensive ways to obtain self-sufficiency which I will share with you in this article.
As you begin your Urban Homesteading journey there are a few issues to consider.
1. Urban homesteading can be inexpensive or you can go out and buy all the new expensive homesteading products. Are you the type of person that must have all the new gadgets or are you willing to scout yard sales, online auctions, or make the item needed? As a single mom I have had to be thrifty and creative to accomplish my goals. But, I will admit there are some items that you do not want to skimp on. There are quality items that are well worth saving for, to purchase the product. It is an investment. You are throwing your money away if you purchase a product that is of average or poor quality and it falls apart or malfunctions. Research the products before purchasing. Read the reviews. Closely read the description of the product. Is it made with plastic parts? Does the product have the features you need? Where is it made? A well-made product that is cared for, will last for years.
2. What type of lifestyle do you have now and do you have any physical limitations? Depending on your answer to this question will determine the level of self-sufficiency and sustainability you may want to work toward or are able to work toward. For those who have physical limitations there are small indoor projects that will be easy for you to accomplish.
3. Are you an apartment dweller or a home owner? What is the size of your yard or patio? For people that have limited space, container gardening is the answer. And for people on a limited budget who cannot buy planting pots, you can look on Craigslist in the free section for storage totes, buckets, old pots, planters, or anything that can be transformed into a planter. The containers can be transformed into cute planters. Make sure to clean pots or containers with the following cleaning solution. Sherry Rindels of The Iowa State University Department of Horticulture suggests,
"TO DISINFECT POTS, SOAK THEM IN SOLUTION CONTAINING ONE PART HOUSEHOLD BLEACH TO 9 PARTS WATER FOR A MINIMUM OF 10 MINUTES. THEN PUT POTS IN A DISH DETERGENT AND WATER SOLUTION. TO CLEAN CLAY POTS USE STEEL WOOL OR A WIRE-BRISTLE BRUSH TO REMOVE MINERAL DEPOSITS AND OTHER DEBRIS. IF MINERAL DEPOSITS REMAIN, USE A KNIFE TO SCRAPE THEM OFF. RINSE POTS THOROUGHLY AND SOAK THEM IN A BUCKET OF CLEAN WATER UNTIL YOU ARE READY TO USE THEM. DRY CLAY POTS CAN WICK MOISTURE AWAY FROM THE POTTING MEDIUM DEHYDRATING NEWLY POTTED PLANTS. PLASTIC POTS ARE EASIER TO CLEAN REQUIRING ONLY A SCOURING PAD. MINERAL SALTS REMAINING CAN BE SCRAPED AWAY WITH A KNIFE. SMOOTH ANY ROUGH EDGES WITH STEEL WOOL. RINSE THE POT AND IT IS READY FOR REUSE."
After answering these questions you will have a guideline to follow toward establishing your homesteading goals.
For this article I will start with easy steps and projects toward sustainability.
1. Food Independence -
A. Plan and Plant a Garden. Include your children or grandchildren. Berry plants are a big hit with many children. Children love to pick fresh food from the garden and eat it. And don't forget to plant fun plants like pumpkins and loofahs. Just in case you are asking "What is a loofah plant?" It is a plant that produces a gourd like fruit. The fruit can be dried and peeled to reveal a fibrous sponge which can be used in the kitchen or bath.
B. Educate yourself on how to garden. Go to the library and borrow gardening books. Read and research gardening techniques. Attend free seminars, workshops, festivals, and presentations. Free
C. Surround yourself with people who are gardening. Join a seed swap group, gardening group, homesteading group, or take a Master Gardener class to meet gardeners who can advise you on your gardening adventures. To gain knowledge and experience volunteer at local parks, gardening clubs, and neighborhood gardens. Have a plant or produce exchange day with the people you meet at the groups or clubs. Most groups are free but some do have a nominal fee.
D. Check the Craigslist free section for gardeners who are removing a plant or just thinning out their garden beds. If you want to build raised beds look for people that are tearing down their deck. I built my raised bed from recycled decking wood that I painted, cut, and put together. Yes, it was work but I save money and it looks great. There are all types of items that people just want out of their yard or garage. Free
E. Plant as many perennials as possible. I planted strawberries, blueberries, and blackberries. I also, planted perennial herbs.
F. Sprouting is an easy food source to grow and it is inexpensive. To sprout the seeds you can use a canning jar and a small piece of screen over the top secured with a rubber band. Or you can buy a sprouting tower for about $14. The cost for a one pound bag of Mung seeds is $6.54, alfalfa seeds $10.90, and a sampler pack is $12.85. I order my seeds online. If you purchase sprouts at the grocery store a small container can be almost half of the cost of a pound of seeds. You save when you sprout your own seeds.
G. Grow vegetables from your scraps. You can grow celery, potatoes, lettuce, sweet potatoes, and onions. Easy and free.
H. Learn to grow mushrooms. There are kits that you can purchase to grow mushrooms indoors for about $24 and you may have two harvests. Another option is to purchase mushroom plugs to inoculate logs for growing mushrooms outdoors. The plug prices vary but I have seen 100 Shitake plugs for $18.95. If you inoculate the logs correctly and place them in a shady location, you should have two mushroom harvests a year for many years.
I. Purchase heirloom or non GMO seeds and after your first crop save your seeds. Check face-book or craigslist for seed swap events.
J. Learn to forage. There are common wild plants growing all around us that you can pick and eat. There are basic rules to follow. You must have a positive identification of the plant you intend to pick. You must have a clean pick free of pesticides and chemicals. You must have permission to pick on private or public property. Some parks do not allow foraging. Do not pick all of a plant in a location.
2. Learn to Cook and bake from scratch.
a. Yes, it is easier to just buy a frozen dinner at the store but homemade tastes better and is healthier. Once you start cooking at home you will learn shortcuts and you will enjoy the food you cooked. Especially during the summer when you can walk out to your garden and pick fresh food. The taste of fresh garden produce beats store bought produce. When I harvest my food an extra bonus is watching the wildlife in my garden. The butterflies and bees on my plants, the birds and squirrels at my bird feeders, and the toads at my small pond.
b. Learn to preserve your garden harvest. Learn to water bath can, pressure can, dehydrate, ferment and freeze food.
c. Stop eating processed foods. Soda pop, frozen dinners and prepackaged foods are simply unhealthy and expensive. After a couple of weeks you will not like or want processed foods.
d. I cook dinners on the weekends and put them in the freezer. I have a week of dinners and lunches in the freezer and it is much easier to cook and clean up once. Again, the homemade frozen dinners are healthier and cheaper.
e. Make smoothies at home. It is so easy and they taste great. For convenience you may use canned fruit or frozen fruit or berries. I use soy milk and my choice of fruit. It only takes about three minutes to make. One day I may use strawberries and bananas and the next I may use pineapple, coconut, and mandarin oranges.
f. You will be amazed at the difference in your food bill when you limit your processed food purchases. You will love the savings.
3. Financial Freedom
a. Pay off debt. Think about the items you want to purchase. Do you really need it? Do you need the top of the line appliance just because it is the new hot item on the market? Can you buy a used item at an auction, garage sale, or Craigslist? How much can you save if you buy used? Some items I will not purchase used. A mattress is one of those items. When you pay off debt and save, if an emergency happens you will not be in a crisis situation.
b. Don't apply for multiple credit cards. The best policy is to not have credit cards. The interest or fees on the cards can lead to a long sentence of servitude if you cannot pay them off.
4. Invest in yourself.
a. Get fit. Exercise, eat good food, quit smoking, don't abuse alcohol or drugs, stay away from processed foods and get a good night's sleep. Treat your body with care so that you can have a long healthy life.
b. Educate yourself. Go back to school. Take community college classes, vocational classes, or rec center classes. There are businesses that offer special interest classes such as medicinal herbal workshops, canning basics and fermentation basics. And for people that have tight schedules there are always online courses.
Note:
Please use caution when you are using social media when scouting for free items. To pick up items try to meet in a public location such as a library. If you do need to pick up an item at a residence, let family and friends know where you are going and if possible take someone with you.
Did your grandmother or great grandmother own a tredle sewing machine?
If you sew, this is a great item to have in case the power is out. Even with the power out, you can finish your sewing project because this sewing machine is powered by you. To use the machine you step on the tredle rocker peddle which moves the push rod and turns the flywheel. This was my mother's and now I have it in my spare bedroom.
Granny's Home Sweet Home
By Melinda Lee
MY GRANDMOTHER CHADWELL WAS A GREAT COOK AND BAKER. SHE LOVED COOKING HOLIDAY MEALS FOR THE FAMILY AND WE LOVED EATING IT. I AM AMAZED THAT SHE WAS ABLE TO ACCOMPLISH SUCH A FEAT ALL ALONE. SHE MADE HOMEMADE NOODLES, PIES, CAKES, CANDY, BREAD, MAIN DISHES AND SIDES. WOW!
GRANNY CHADWELL ENJOYED ENTERTAINING COMPANY AND SHE WAS SWEET AND GENEROUS TO HER GUESTS. SHE MADE PEOPLE FEEL THAT THEY COULD STOP BY WHEN IN THE AREA. SHE GREETED THEM WARMLY AND ALWAYS PREPARED SOMETHING TO FILL THEIR STOMACHS. SHE LEFT HER FRONT DOOR OPEN AND THE SCREEN DOOR UNLOCKED SO FRIENDS AND FAMILY COULD JUST COME ON IN.
GRANNY'S FRONT PORCH SWING WAS A PLACE TO WATCH THE NEIGHBORHOOD ACTIVITY AND RELAX IN THE EVENINGS. HER FRONT PORCH BANISTERS WERE WIDE ENOUGH FOR HER TO PLACE PLANTS ON TOP AND SHE LINED THE ENTIRE PORCH. SHE HAD BEAUTIFUL PLANTS AND SHE WOULD SEND VISITORS HOME WITH STARTS. PEOPLE AND ANIMALS ENJOYED GRANNY'S PORCH. A FOUR LEGGED CRITTER WOULD GET INTO GRANNY'S PLANTS FROM TIME TO TIME. A LITTLE GRAY SQUIRREL WOULD DIG IN HER PLANTS TO HIDE PEANUTS AND I SAW HER SHOO HIM OUT MANY TIMES. SHE FED HIM DAILY AND HE WAS A REGULAR VISITOR FOR MANY YEARS. AND OF COURSE OVER THE YEARS, THERE WERE STRAY CATS AND DOGS THAT SHOWED UP ON GRANNY'S PORCH. GRANNY DIDN'T TURN ANYONE AWAY. NOT EVEN GOD'S CREATURES.
Confessions
By Melinda Lee
I have had many mishaps on my Homesteading Journey and I will be putting those in writing so that others may learn from my mistakes. Coming soon lots of laughs.
Last summer I attempted to make a rocket stove. I printed out some directions and went to work. Well, the project was not as easy as the directions made it out to be. I struggled with cutting the holes and without the proper tools it was a mess. I called my friend, Ron, and I enlisted his help. He was able to repair and make my project presentable. Thanks Ron. Here is the finished project. I look forward to testing it out this summer.
I later made a much easier to build tuna can candle stove and a pocket stove. Here are pictures. I will post directions on how to build in a few weeks.
Click on Images to enlarge.
It may not be pretty but it works.
Mushroom Log Inoculation Project
My second confession. I made a big mistake when I inoculated my logs with mushroom spores. When I set the logs up in my yard I didn't have a shady spot to place them in so, I left them in the spot below uncovered. Well, I haven't had any crops of mushrooms. I was so busy with other projects I just couldn't find the time to build a covered structure until recently. The logs need a shady location in order for the spores to grow. I will shock the spores by placing the logs in water for 24 hours and then put them back under the covered structure. I will then run a sprinkler inside the structure when the logs need moisture. Wish me luck. LOL
Adventures
By Melinda Lee
I am volunteering with The Ohio State Master Gardener Program- Fairfield County Extension, The Search and Rescue Team - Central Ohio Branch and The Franklin County Metro Parks Slate Run Farm. The Master Gardener and Search and Rescue Team offer training programs that are useful to Homesteaders and the Preparedness minded individuals. The Slate Run Farm is a recreated 1880's working farm with a garden, farm animals, and 1880's farm equiptment. There are daily activities normal to life on a farm and there are seasonal programs offered. I have learned so much from these organizations and I urge you to seek out similar programs in your area. It is a great resource for learning Homesteading and Preparedness skills.
Journal
By Melinda Lee
March 2016 - It has been a busy winter. After the holidays I spent much of my time reading, organizing, and collecting material for upcoming projects. I began the HPC endeavor and I have been making connections to make this project a success. The website and documentation is a fulltime job but I am up to the task. I am enjoying creating the HPC website and hope that the viewers will join us on our upcoming projects.
April 2016 - Spring is finally here. I just can't wait to get out and finish my yard projects. I will plant my vegetables after Mother's Day and then I plan on making videos to add to the HPC site.
Childhood Memories
Every child should have an opportunity to go camping and experience the "wild" outdoors. Here is a story about my first camping trip.
Camping with Mom.
By Melinda Lee
My mother was an independent, hardworking woman with many talents, but cooking and camping were not her forte. My mothers cooking consisted of pot roast, spagetti, grille cheese and take out. Mostly take out. She enjoyed the outdoors, I mean her garden. She loved gardening and her backyard, which was the extent of her outdoorsy experiences. So when I was about 10 years old and she exclaimed that we were going on a trip, I was shocked. My mom was also, not one for family vacations, spending money on vacations was wasteful and not something she would do. And a trip sounded like a vacation to me.
It was summer vacation and my three cousins, Lori, Debbie, and Dawn came to visit. I didn't see them very often because they lived in Cleveland, Ohio. My family lived in Columbus and Cleveland was a 2 hour drive from us. When my cousins arrived, we played and chatted about girly things. After a long day of playing we all were so tuckered out that our heads barely hit the pillow before we were asleep.
The next morning we awoke to my mother packing up the car with blankets, food, our luggage and some foreign green gear. My mom, cousins, and I piled into her 1971 Pontiac Grand Prix and we were off to an unknown destination. Shortly after leaving the city, we were on country roads and then driving in hilly and wooded landscape. We loved it. The hills were fun but kinda gave our tummies the tickly feeling as the car went up and down the hills.
Two hours later we pulled into a campground. My mother parked the car, got out and went into the Ranger station to register and pay for the campsite. My mother was assigned a campsite and given a little green tag to place on the dashboard of her vehicle. As she returned to the car and got in, she placed the green tag on the dashboard and then looked at the campground map. She started the car and drove up the mountain to the campsite.
Within minutes we found our campsite. It was a nice shady spot on a grassless slight slope. My mom parked the car and began unpacking. Out came the foreign looking equiptment. That foreign looking thing was a huge green canvas military tent with poles, ropes, and anchors. Ok, now the show began. It was like a scene from "I Love Lucy." The show commenced as my mother wrestled with the green monstrosity. My mother, ropes, poles and tent all entangled and with my mother using some choice words as darkness was quickly approaching. Apparently, some of the nearby campers were watching this disaster unfold. Out of sympathy or just not wanting to hear my mother fight the monstrosity, a neighboring camper came to the rescue. An hour later the tent was finally up and ready to move into.
My cousins pulled out the sleeping bags, blankets, and pillows. We made our beds and settled in to play cards, tell ghost stories and listen to the crickets. We fell asleep enjoying the night sounds but around 3am our sleep was interrupted with sounds from the tent next door. I guess some campers forgot that everything said and done in tents can be heard by your neighbors. We heard loud flatulence noises followed by pheeew and then laughter. Well, then my cousins and I started giggling and giggling. We giggled so hard that we had to go pee. Oh no. It was dark and the outhouse style toilets were a block away. And when I say dark, I mean pitch black dark, can't see your hand in front of your face dark.
Since my mom was asleep, my cousins and I gathered up the courage and quietly slipped out of the tent and headed toward the outhouse. Oh, pheew it was so stinky. I had to hold my breath and I was afraid of falling in or even worse, a snake or critter may lying in wait to attack me. I dashed in the outhouse, dropped my drawers, did my business and then dashed out. When all of us were finished we headed toward the tent.
Just as we were nearing the campsite we saw some glowing eyes only feet from the doorway of our tent. We stopped in midstride. We quietly watched as the black form with glowing eyes moved around the tent. We could hear the creature sniffing and growling. I wanted to scream but I was afraid if I did it would give away our location to the glowing eyed creature.
Next we heard it tear open food bags and gobble up the contents. Finally, the creature waddled off into the woods. Several minutes went by as we stared along the woodline wondering if the creature would return. My cousin, Debbie, said c'mon let's go. We sprinted toward the tent door, unzipped the door and went in. We were safe at last. Exhausted we fell asleep.
The next morning my mom woke us up and asked us what had happened to our campsite. The campsite was a mess. Chip bags and cereal boxes ripped open and the contents gone. We explained the previous night's events and she laughed.
A neighboring camper stopped by and informed my mom that food cannot be left outside at night because the forest creatures visit the campsites. When campers disappear into their tents and all is quiet, the creatures scavenge for food and they would even open coolers. So, upon closer inspection we discovered that the creature with glowing eyes had devoured our breakfast cereal. Luckily, my mom had another box of cereal in the car.
After breakfast, my mom had a full day of activities planned. We went hiking in the cooler morning hours, swimming in the heat of the day and then returned to the campsite for dinner. What a grand day of fun and sun and by dinner everyone was famished.
My mom made a salad and then wrapped potatoes in foil and put them in the coals of the fire she had built. She began making hamburger patties when a handsome Park Ranger stopped by the campsite. My mother was a beautiful divorcee and it was not uncommon for men to flirt with her. She was petite, slim, and had long black hair. She was always dressed to kill no matter where she went. It was no shock to see that the Ranger was smitten with my mother.
As they stood talking and flirting, there was a sudden kaboom and then another kaboom. The Ranger, my mother, cousins, and I all jumped at the loud noises. Everyone searched for the origin of the loud sounds. Where did it come from??? The Ranger discovered that my mother, the fantastic "I Love Lucy" cook, forgot to poke holes in the potatoes and our dinner exploded. Fortunately, my mom didn't ruin the salad or hamburgers. Needless to say, the Park Ranger didn't stay long after that little incident.
We all had a good laugh about it later. For years we joked and laughed about mom's explosive cooking. Later that evening we roasted marshmallows and enjoyed the flickering flames of the fire. We ran around catching fireflies and playing red light, green light. Tired from a long day of activities and excitement we went to bed.
We were snuggled in our sleeping bags with only a thin canvas layer of tent between us and the cold hard ground. I slept soundly until I heard thunder and felt like I was sleeping in a flooding canoe. I woke up to my cousins moving as far to one side of the tent as they could go. As far away from the tent door as they could get. As my eyes adjusted to the darkness I could see water pouring in the tent door.
Unfortunately, in haste to put the tent up, the neighboring camper who helped assemble the tent didn't notice the slight incline of the campsite. The rain was running off the road, down the incline and into our tent. And to make matters worse the canvas tent had not been treated with protective spray against leaks. So, everytime someone touched the tent, it started to leak. I was wet through and through. And at some point the tent began to slide downhill due to the massive amount of water attacking it. We made it through the night but as soon as the sun came up my mom packed up the gear and we headed home. I guess she had enough of camping for one weekend.
My mom only took me camping two times after that trip. But, I will never forget our 1st camping trip. Action and comedy packed.
What a great trip!!!!